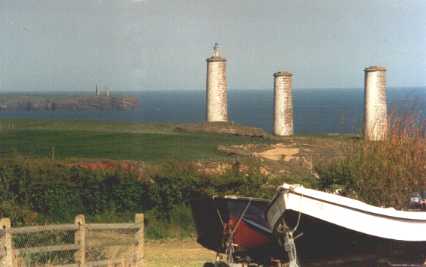 "Keep off, keep off, good ship from me,
For I am the rock of misery".

Metalman, Tramore Bay,
with Brownstown pillars 3 miles away on far side of bay.

These pillars were built in 1823, in response to a terrible disaster in January 1816. 363 men, women and children were drowned when their transport ship, the "Seahorse", was driven ashore in Tramore Bay during a gale, probably mistaking the bay for the entrance to Waterford Harbour, three miles further east of Brownstown. By the time the crew realised their mistake, it was too late.